MIMS / Guild Intern of the Year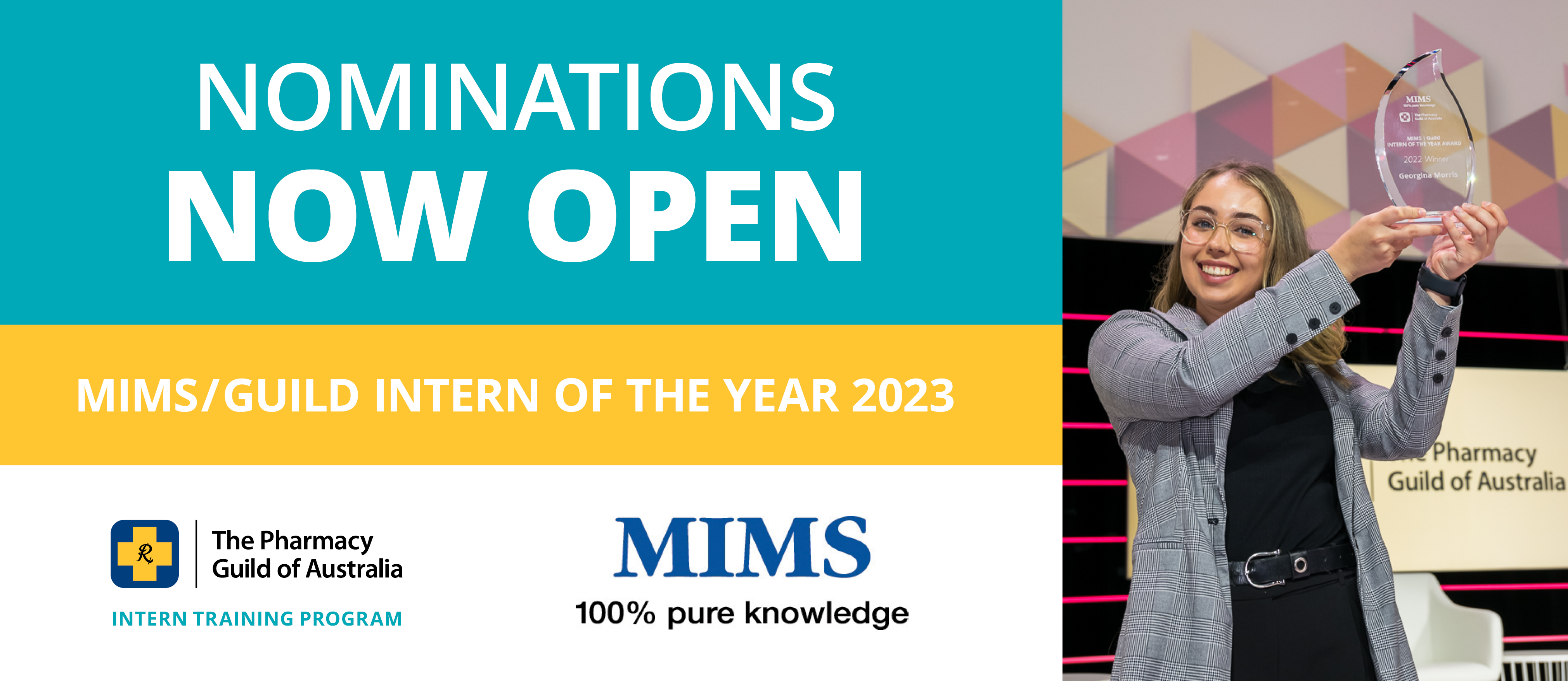 Nominations Now OPEN for the MIMS / Guild Intern of the Year 2023.
If you've excelled in the Pharmacy Guild of Australia Intern Training Program during 2023, or know someone who has, it's now time to put in your nominations.
Nominate Yourself Nominate an Intern
---
Who is eligible?
In order to be nominated, you must be enrolled in and successfully completed (or due to complete) the Pharmacy Guild of Australia Intern Training Program (Guild ITP) during the calendar year of the award.
Who can nominate?
Supervising preceptors,

Employers,

A pharmacist or other pharmacy colleague,

A Guild ITP clinical tutor, or

Yourself! (self-nomination).
What does the nomination process entail?
You will be required to complete the nomination form – it takes less than 10 minutes to complete! Interns who have been nominated by a preceptor, employer or colleague will need to formally accept their nomination by completing the self-nomination form.
Following the close date, all nominations will be reviewed by our judging panel against the award criteria and shortlisted Interns selected.
Shortlisted Interns will be notified and be invited to take part in an interview with our judging panel.
What is the timeline of the IOTY 2023?
Nominations Open: Monday 9 October 2023
Nominations Close: Friday 19 January 2024
Shortlisted Interns Notified: Friday 25 January 2024
Shortlist Interviews: Monday 5 to Friday 9 February 2024
Intern of the Year 2023 Announced: Thursday 14 March 2024 at APP2024 on the Gold Coast
In addition to receiving the exclusive title of Intern of the Year, the winner will also receive a $4,500 cash prize courtesy of MIMS Australia to pursue their pharmacy career.
Hear from Intern of the Year, 2022: Georgina Morris: